I prophesied Ebony's death' – Kaywa
David Kojo Kyei known in showbiz circles as Kaywa, says he predicted the death of dancehall artiste Ebony Reigns days before it happened.
According to the renowned sound engineer, he relayed the message to the artiste and her manager Bullet and asked them to pray against it.
In an interview with Andy Dosty on Daybreak Hitz hours after the death of Ebony, he said the tragedy could have been avoided if enough prayers had been invested in his prophecy.
"When you involve prayer in everything we do, God is able to take us away and out every threat," he Kaywa.
Ghana has been plunged into a state of mourning following the death of Ebony Reigns and two others on the Kumasi-Sunyani road Thursday.
The dancehall artiste who was heading to Kumasi in a black Jeep after visiting her mother in Sunyani collided with a VIP bus that was heading to Sunyani from Kumasi.
But the sound engineer said it could have been averted as he saw it coming.
"I prophesied it in August last year. I remember she and Bullet came to my house, even before then. I called Bullet and I told him that, 'let's be careful and pray for Ebony because there is a car accident on her way and we really need to really intercede for her'", he Kaywa.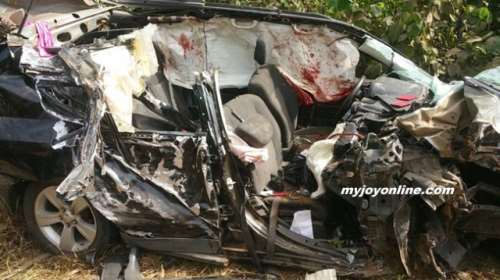 Late Ebony's vehicle
"Just this Sunday, I travelled to the Netherlands, when I returned, I saw the same vision again so I called her [Ebony]…when I got through to her, I told her 'Ebony, I still see the car accident, I want us to spend time and pray about it,'" Kaywa said.
But her response, according to him, was "hmm, Kay, I will come."
Related